What Is IT Strategic Outsourcing and How To Find The Best Partner?
The global ITO outsourcing industry reached $62 billion in 2018, which was recorded as 31% growth than the previous year i.e. 2017. The experts claim that the total outsourcing budget has increased from 10.6% in 2016 to 11.9% in 2017.
The growth is impressive and IT outsourcing has been integral to the global economy, but many global businesses still wonder if it's the right choice or not.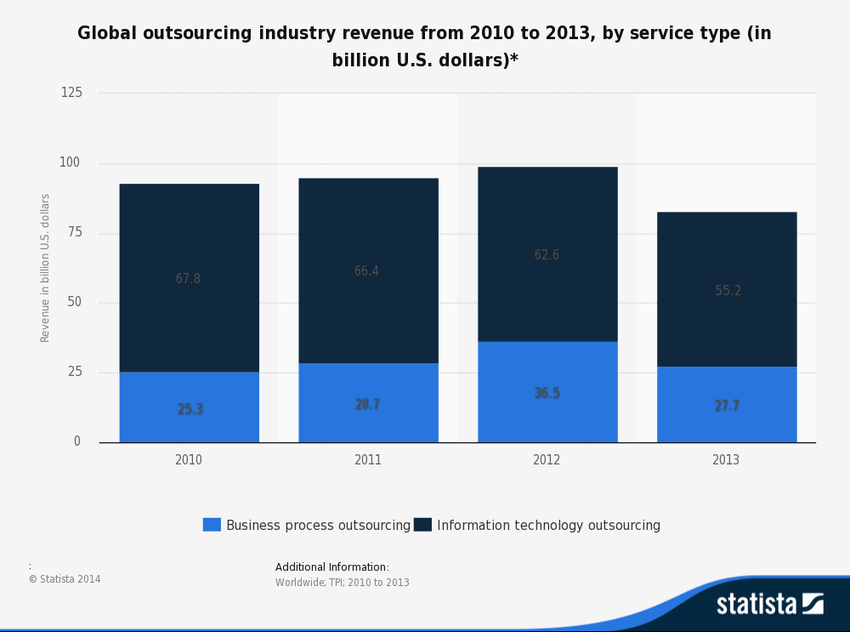 Image curiosity: Statista
If done well and with planning, ITO outsourcing serves as a realistic option for businesses aiming to achieve their goals in the highly competitive marketplace. However, IT outsourcing isn't a one-time affair, so you can't just choose a company. Building long-term relationships require trust, quality, performance and a lot more to turn the business relationships into PARTNERSHIP.
With outsourcing partnerships, you trust your brand to another provider and rely on them with the hope of creating new business opportunities with better, improved and reliable services to the end-users.
To make the right decisions, understanding the concept of IT outsourcing partnership is essential, regardless of the type of partnership you opt for.
Outsourcing & Its History
The idea of outsourcing is not new, although it may be newer for the IT industry, it has been there for a long time. Outsourcing started way back in the 1700s when global manufacturers started hiring cheap labors during the Industrial Revolution.
The ideas emerged not just because the manufacturers needed cheaper labor, but also because most organizations were not totally self-sufficient and needed more people to work on their projects. It was in the 1990s when the companies began outsourcing with more focus on cost-saving measures.
More functions that were necessary to run companies started outsourcing. Be it security services, plant maintenance, human resources or data processing, more modern businesses outsource their services to Asian countries with an aim to save more and increase revenue.
Image curiosity: Unknown
India takes the lead when it comes to IT outsourcing. Even after over a decade of competitive global outsourcing, India remains the first choice for outsourcing. The outsourcing market in India continues to grow, accounting for approximately 55 percent market share of the US$ 185-190 billion global business in 2017-18.
Challenges of IT Outsourcing Partner

IT outsourcing partners can bring great benefits to your business, but it doesn't only have a positive side. There are significant risks and challenges involved with outsourcing, especially when opting for an IT outsourcing partnership.
Change Management and Governance play an important role in outsourcing. Through the interviews with many outsourcing service providers and their clients, we've learned that poor Change Management and Governance are the most systemic of all the mistakes that can occur.
So, why are these two (Change Management and Governance) critical business issues? No matter how careful you are, outsourcing agreements can fail due to poor planning and execution. Apart from poor Change Management and Governance in outsourcing, there are many challenges that global businesses face.
Finding the right outsourcing partner
Negative attitudes and behaviors of outsourcing company towards work
Not devising a proper outsourcing plan before starting the partnership
Meeting deadlines due to the differences in the time zone
The language barrier, especially for European countries
The difference in the working style of the companies
Strategic IT Partnership & Its Types
We all know that outsourcing partner to other countries is the process of hiring talented professionals at a cheaper cost. The strategic IT Partnership is the next step of a business relationship.
A strategic IT partnership is the collaboration between businesses with common missions with agreed terms and conditions. It is common in the modern world where global businesses collaborate with companies across Asia and other countries where they can find better and more talented professionals at a cheaper cost.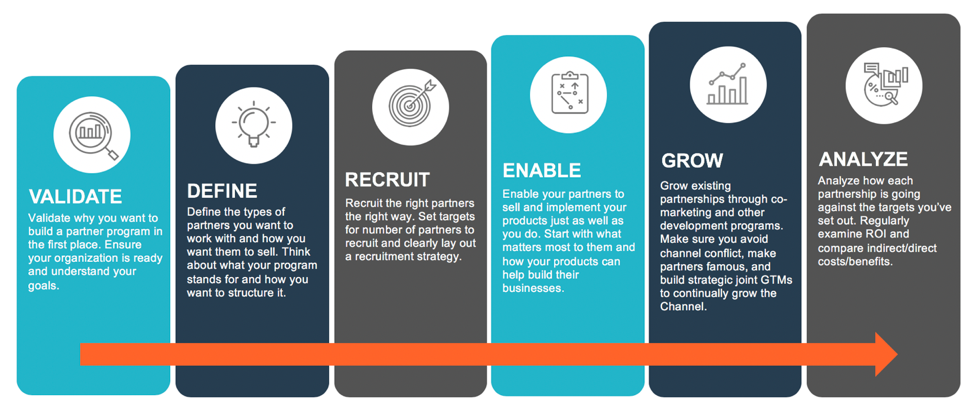 Image curiosity: Unknown
Think of the global leading brands like Spotify, Apple, IMB, Uber and Alexander Wang and H&M and others. Although the partnership can take on a number of objectives, the prime goal of the strategic partnership is to share the resources in a way that helps grow all the partners.
Businesses team up with strategic partners for various needs – integrate new technologies into operations, market their brand, earn revenue by outsourcing, etc.
Channel Alliance is also a lucrative choice for modern businesses to form strategic IT partnerships for mutual growth. Under this type of agreement, the services and products of a company are sold through the marketing channels of another organization.
For example, Equinix and Data pipe opted for this partnership model a year ago. For the mutual growth, Equinix and Data pipe started to provide traditional and cloud solutions worldwide to expand their operations and reach a wider audience.
However, you don't need to be a leading brand or the industry giant to reap the benefits of strategic partnerships through channel alliances. Many global IT businesses in the USA, UK, Canada, Europe, and other countries partner with IT companies in India.
Sell their products and services to their clients and enjoy their share as strategic IT partners through Agent/Broker Channels. This type of strategic IT partnership has the potential to open new avenues for business growth, increase their target audience, market share and take their customer services to a whole new level.
Apart from earning revenues, strategic IT Partnership turns to be great exposure to the team members, who are exposed to new perspectives and have the opportunities to learn new skills and augment existing capabilities.
The possibilities to work with global brands and tap into another business's domain can provide a boost in intellectual intelligence, making them better and smarter technical experts.
Conclusion ( for outsourcing partner)

Outsourcing has come a long way, from outsourcing cheap labor in the 1700s to selling the services of other businesses in the 2000s. The goals of the strategic partnership are still the same – grow market presence and increase revenue.
The strategic IT partnership offers access to physical capital such as the technology, materials, equipment, and facilities that you might not be able to afford outright.
While the global leading brands may afford to hire in-house teams of experts at the best prices, outsourcing and collaborating with brands through strategic IT partnership serves the best solution for small to medium businesses.
Need Help With Development?
Contact us for a
perfectly designed
website!
We own a remarkably experienced and enthusiastic Custom Android app development team