Check out Some Features of Multi-Vendor eCommerce Systems!
Multi-Vendor eCommerce system refers to a system that allows one to create an online marketplace. Here people can sell their own products in a single storefront. Well, in this world where people run short of time, this system works like bliss for most. Shopping does consume some amount of time and energy too along with travel issues. With multi-vendor eCommerce software, people can easily shop from their comfort places.
The multi-vendor eCommerce system is a virtual shop, so setting it up needs to be done in a way that looks good and attractive. Virtual markets do need some research to carry out them further. The advantage of these types of virtual markets is that many vendors can unite together and work as a multi-vendor marketplace. The individual vendors here can just pay a commission and carry out their business.
Important features of the multi-vendor eCommerce system!
Easy registration/listing for vendors
The first thing to know before getting on with multi-vendor eCommerce solutions is getting to know that the successful stores are those which have an easy and simple registration system. The consumers who are willing to purchase must get an easy billing system i.e., in other words, customer satisfaction. Also, the third-party vendors should get an easy registration process along with easy product listing. As we all know there are lots of such platforms and if one doesn't get a simple procedure, they might jump to somewhere else.
A good quality search feature
As we know the web is crowded with third-party platforms, one needs to find a reason to opt for your platform, and such reason can be provided by providing a good quality search. This is imperative for a Multi-Vendor eCommerce System.
Easy reviews
The most important thing for a product to sell is reviews and most importantly 'positive reviews'. People do refer to reviews. Also by a good review one can build a good reputation.
Charge Commission
As a multi-vendor eCommerce system, apart from making revenues, one must be able to charge commissions. As it's a third-party platform, one must be able to charge commission as it would make the platform more stable.
Some Best Platforms for multi-vendor e-commerce system!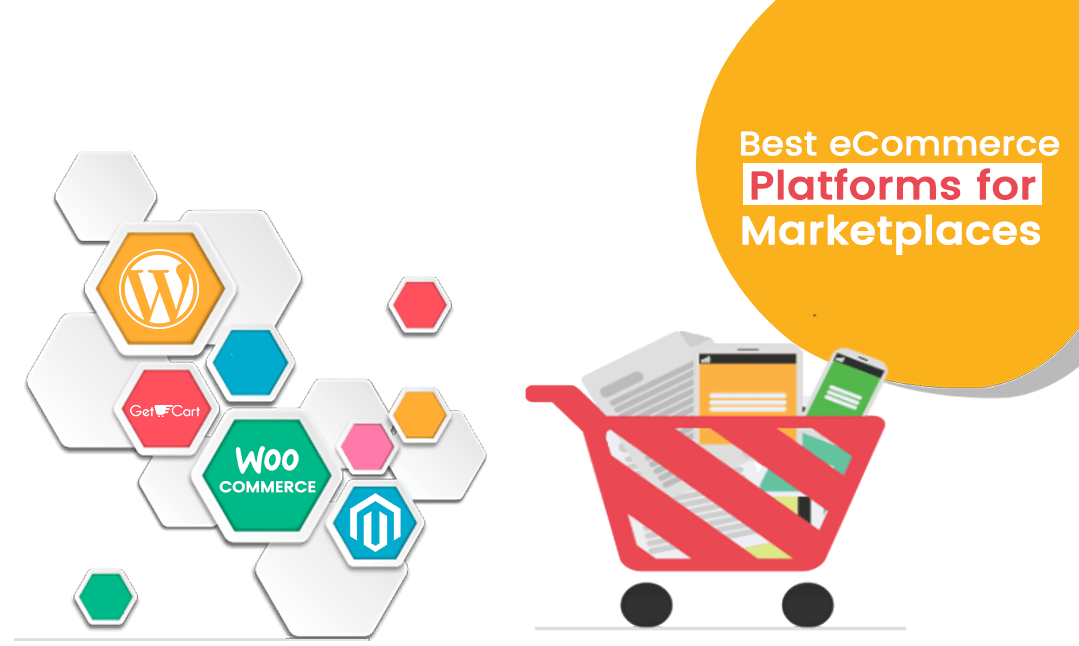 1. WordPress with Marketify
We all know anyone can set up a site with the help of WordPress without much coding skills. So opting for WordPress can turn out to be the best. And adding Marketify theme to it is bliss. Marketify is a popular WordPress theme to create multi-vendor marketplaces for digital products. Marketify has a simple design and does make work easier.
 2. Magento with Marketplace
A marketplace is a popular extension for Magento and works well for the multi-vendor eCommerce system. The customers here can easily review the products of both stores and choose their desired ones. Also, the Magento marketplace can handle products of both types of i.e. physical and digital products.
 3. WordPress with WooCommerce + WC Vendors Pro
There are many options with the help of which one can add plugins to multi-vendor eCommerce scrip; WC Vendors Pro plugin is one of them and also the most preferred. It has a simple overview and also allows customers to review the products.
4. GetMeACart
Whether you are a startup, small business owner or an established business that is looking to expand your business, you can get it done with GetMeACart. It provides hosted e-commerce development services to everyone. It provides multi-vendor e-commerce marketplace solution for all small and medium business. It is also one of the best platforms that not only help you develop your own cart but at the same time provides you with the hosting solution.
It is one of the best platforms for a multi-vendor e-commerce system as it provides its client with services of website design & development, content development, mobile application development, and/ or maintenance and Support Services along with hosting. When it comes to the 'multi-vendor eCommerce system', nothing fits this more than GetMeACart. So, when looking for the best multi-vendor platform and hosted eCommerce development services, GetMeACart is your destination.
Above mentioned are some features of a workable multi-vendor eCommerce system. Also, some best platforms for it are also mentioned above.
Need Help With Development?
Contact us for a
perfectly designed
website!
We own a remarkably experienced and enthusiastic Custom Android app development team