Mistakes To Avoid During Custom Ecommerce Application Development
Selling online may open up great possibilities for small businesses. With a web presence, your business is open 24⁄7 to the global population and you have the possibility to widen your reach without the cost of setting up a brick-and-mortar store. With the evolution of mobile technology, investing in a custom ecommerce application development is the smartest choice any business can make.
However, it's not as simple as it seems. You can't just create a custom mobile application for your website assuming that people will be queueing up to buy it from you. There are many mistakes that online retailers make every day. Learning from mistakes means making progress and having a better web presence. Avoiding ecommerce application development mistakes will greatly improve the experience for your customers.
To begin with, make sure you hire a professional mobile application development company with the experience to ensure you get it right the first time.
Assuming That a Mobile Device Is a Computer
Of course, there are many tablets and smartphones that are smarter than many desktops. However, when it comes to mobile app development, it is important not to confuse a PC platform with a mobile platform. The mobile application must be designed according to the coding and design standards of the smaller devices.
Remember that a mobile application is fundamentally different from a website in almost every way – functionality, size and scope. The apps should be designed in a way that they are easily accessible on the go, with infinitely customizable and intuitive touch interfaces. Your mobile application development team must have the capacity to create a unique user experience without falling back on pre-established designs.
Designing Overly Complicated Applications
You want to impress your visitors with amazing functionalities and user interface, and it is important to remember that users are looking for something they can understand and use easily. When creating your ecommerce application development strategy, keep in mind that the design, functionality and the layout of your app should be simple and designed from the users' perspective. They would prefer each button and function to be defined and easily rendered.
Your mobile app is going to be used on small screens, so prepare the design accordingly, making the app easy to operate, intuitive, and attractive for the end-users. If it needs a user manual to operate, you're going to lose out on potential buyers.
Designing Heavy Applications
Mobile devices are amazingly advanced, and your users would never want to put additional weight on their devices. Your app should be light enough to suit all mobile devices, data speeds and operating systems.  Heavy apps create problems during low data speed and may crash or simply not load.  If the app takes too much time to load or crashes too frequently, your visitors are likely to turn away before you even know they exist. Your mobile application development company should understand what your app needs to do to deliver exactly what your visitors want.
Testing Yourself
You know how the app is prepared and everything about its functionality. So, if you are doing your own beta testing for your app, there may be a chance that you burn the results.  Make sure you engage a professional application development company to do the testing for you.
Testing isn't just checking if the features are working, it also includes the usability of the app with user-friendliness in mind.  For example, you may not find the multi-step checkout process to be lengthy because you're not going to use it again and again, but your users will. There will be similar issues that you will want to eliminate from the app before it's launched.
Conclusion
The customized ecommerce application development must be a well-thought-out process. It is essential to keep in mind each aspect of the design and development in close collaboration with a professional application development company that can guide you through the process.  UX is one of the most valuable aspects of the whole development process so pay special attention to it.
Need Help With Development?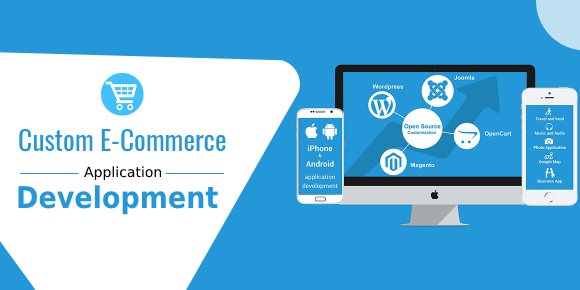 Contact us for a
perfectly designed
website!
We own a remarkably experienced and enthusiastic Custom Android app development team